Energy Efficient Hot Water Heaters

AO Smith is a trusted brand when it comes to water heaters.  The company continues to develop innovative and energy-efficient, high-quality products we rely on for our customer's homes.
The AO Smith product line consists of many different hot water heater models for gas or electric connections. This brand allows us to offer customers the right fit for your home, budget and hot water needs.
We can also help you find potential energy rebates for installing a new hot water heater in your home. Contact us today to learn more.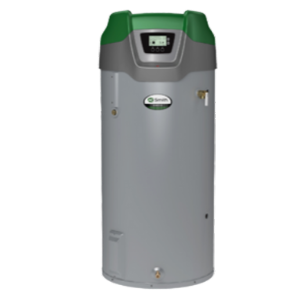 Vertex™ 100 Power Direct Vent 75-Gallon Gas Water Heater
The GDHE-75 Vertex™ Power Direct Vent gas water heater offers unprecedented levels of performance to meet your hot water needs.
Featuring a 75-gallon (nominal) tank and a 100,000 BTU gas burner, the GDHE-75 Power Direct Vent delivers a thermal efficiency of 96%, a Uniform Energy Factor of 0.86, and a recovery rate of 129 gallons per hour. It carries a 6-year limited warranty and meets Ultra-Low NOx emission requirements.