Heating
Whether you need minor furnace repair, preventative maintenance or new furnace installation, we'll provide quality workmanship at competitive prices. 

AC/Cooling
Having properly operating air conditioning is a must. If your home is getting hot in the summer sun and your air conditioning unit is struggling to keep it cool, we can help!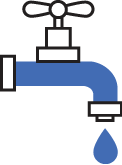 Plumbing
24 hour licensed plumbing services when you need it. Whether you have an emergency leak from a pipe, hot water heater or faucet, or are ready for a bathroom remodel, we do it all.